MAP1: location of the project
The 500 kV transmission line approx. 67 Km from Power Plant to Lao-Thai border will be constructed and 115 kV transmission line will be constructed to connection Electricity du Laos (EDL) domestic network. A part from these, there is road upgrading 31 Km long to Lao-Thai border and a By-pass road will be constructed for avoiding road traffic to Nguen District not allowed pass through the Power Plant area. For the first phase of power generation, limestone from Nguen quarry will be used for dust collection system (Electrostatic Precipitator – ESP).
2. Project Rationale
The Lao PDR is land-locked country, 70% of land area is mountainous, it is one of the word's poorest countries with almost half of population living under the poverty line with the average GDP per capita per annum below USD 500. Studies by institutions such as the World Bank have identified two main options for economic growth – the export of tropical timber products and export of hydropower. However, as the large-scale exploitation of tropical timber products is viewed as non-sustainable and environmentally degrading, this option is not acceptable to the Government of Lao PDR ("GOL"). One of the few ready available and sustainable to the GOL to achieve its stated objective of economic and social development is hydropower as neighboring Thailand represents a long-term viable customer for power generation from Lao PDR.
3.Project History
The development of hydroelectric power projects in the Lao PDR for export of electricity to both Thailand and Vietnam has long been addressed in inter-governmental agreements between the respective countries. In addition to benefits derived from the export of electricity, the development of hydroelectric power capacity is also needed to satisfy both current and domestic electrical energy demand for industrial, residential and domestic purposes.
For Thermal Power Development Project is the first project in Lao PDR to be chosen by GOL to meet its strategy of economic and social development plan, with potential natural resources available. Therefore in the year 1994, Thai-Lao Lignite Company (TLL) has entered into the Project Development Agreement (PDA) with GOL to develop 700 MW Thermal Power Plant Project in Hongsa district, Xayabouri province, Lao PDR.
In Dec 2006, the supersession of Banpu Power Limited ("BPP"), a wholly-owned subsidiary of Banpu Plc. ("Banpu"), signed a Heads of Agreement ("HOA") with the GOL with Exclusive Rights to develop a lignite mine and a lignite-fired power project. Since then, Banpu has been developing both projects industriously. In 27 December 2007, the tariff MOU was signed with EGAT. Since then the process to establish project company has been proceed continuously, while pre-construction work at Hongsa site has been started. In 24 July 2008, the GOL basically has approved Concession Agreement (CA), until 5 February 2009, Shareholders Agreement was signed among Lao Holding State Enterprise (LHSE), RATCH and Banpu.
LHSE, a state owned enterprise of Lao PDR, to jointly establish Hongsa Power Company Limited (HPC) and Phu Fai Mining Company Limited (PFMC), both of which have principle offices located at Vientiane in Lao PDR. The objectives of HPC and PFMC are to implement and operate Hongsa Project, a 1,800 MW mine-mouth power plant in Hongsa district, Xayabouri province of Lao PDR.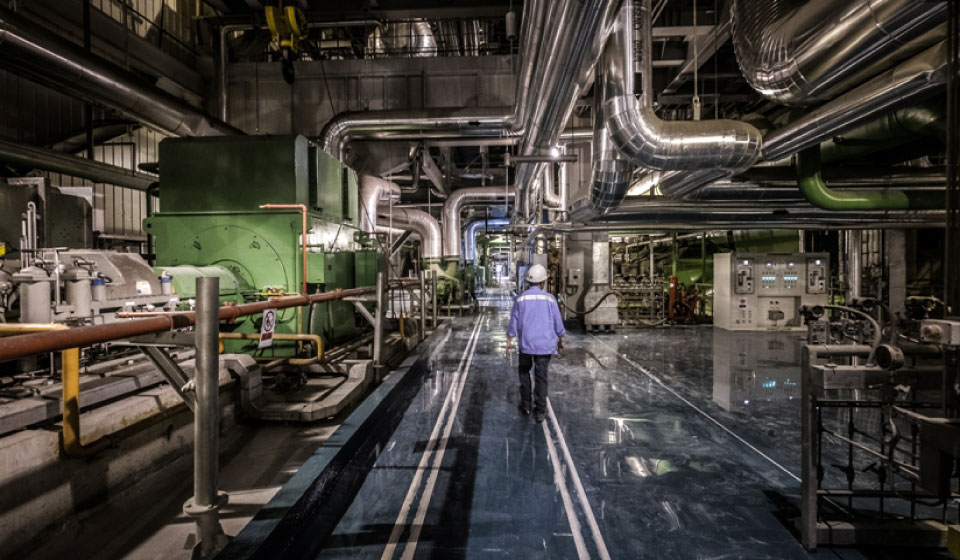 The Power Plant's functional specification
has been prepared by Pöyry Energy Limited. The design specification of the Power Plant reflects the performance required by the Electricity Generating Authority of Thailand's Power Purchase Agreement (EGAT PPA), as well as the limitations imposed by the Environmental Impact Assessment (EIA).
The Power Plant
is designed to have a nominal gross rating of 1,878 MW, consisting of three 626 MW-generating units, with a net available-for-sale power output of 1,653 MW. Of the net available-for-sale power output, 1,473 MW is contracted to EGAT under the EGAT PPA, measured at the Thai-Lao border (the Thai Grid delivery point), and 100-175 MW to the Electricité du Laos (EDL) under the EDL PPA, measured at the Hongsa Town Substation (the Lao Grid delivery point); while the remaining is lost in the transmission.
The Power Plant operation
will be controlled and monitored from a fully-equipped central control room. Each power-generating unit will be highly automated to ensure strict compliance with operating limits, and achievement of optimum performance, as well as to guarantee reliability and safety of the Power Plant. Additionally, the Power Plant will operate in compliance with the World Bank Environmental Guidelines 2007 (WBEG07).
Transmission Line and Substations
In order to supply electricity to the Thai and Lao grids, a transmission line of approximately 183 kilometers has to be constructed. To supply electricity to the Thai grid, a 67-km, 500-kV double circuit overhead transmission line will be built from the Power Plant to the Thai-Lao Border. To supply electricity to the Lao grid, an approximately 115–km, 115-kV double circuit overhead transmission line will be built from the Power Plant to a substation near Hongsa town, and then to the Luang Prabang 2 substation. Apart from the 500-kV and the 115-kV double circuit overhead transmission lines, the Hongsa Town and the Luang Prabang 2 substations will also have to be constructed.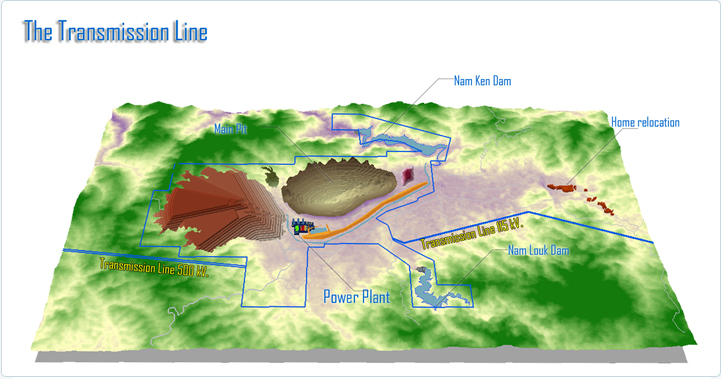 Lignite is used as primary fuel; while diesel is used for start-up, flame stabilization, and low-load operations.
Lignite will be supplied from the Mine located adjacent to the Power Plant. A geological lignite resource figure of 577.4 million tonnes has been delineated within the Hongsa deposit to a 350-meter depth below ground surface. While a total lignite reserve of 436.9 million tonnes has been estimated, HPC plans to excavate a proven lignite reserve of approximately 370.8 millon tonnes. To excavate the identified lignite reserve, 1,250 million bank cubic metres (BCM) of overburden and interburden have to be removed, resulting in an average stripping ratio of about 3.4:1 (BCM:t). Assuming an average annual lignite production of 14.3 million tonnes, the reserve of the Hongsa opencast mine would last for 26 years of operations. To secure the supply of lignite against any interruption to mining operations, lignite sufficient for 2 week's operations is stockpiled at the stockyard, adjacent to the northeast of the Power Plant. The stockyard serves as not only a lignite supply buffer, but also a lignite quality blending ground. The lignite supply of the specified quality will be transported to the transfer tower behind the stockyard – the hand-off point between the Mine and the Power Plant – by the lignite reclaiming conveyor system with twin 100% duty conveyors.